The event was designed to be euphoric. Last July, during the Biennale, Valentino and Pierpaolo Piccioli took over the Gaggiandre of the Venice Arsenal to present the haute couture collection entitled "Valentino Des Ateliers". An extravaganza of bright colours, a whirlwind of drapery, an ode to grace and exuberance. Blocks of colour, like shocks, it was pure Pierpaolo Piccioli. For the Roman designer, it had to be Venice: "Venice was part of the vision I had at the start: it was the only place in the world where such a collection could be presented; and beyond that it's a setting to which nothing can be added and from which nothing can be removed: the light and the power of Venice offer the perfect setting to welcome my work".
The 83 silhouettes in the show navigated between the great arches of the Gaggiandre, two magnificent naval shipyards which open out onto a large basin, constructed between 1568 and 1573 and attributed to the architect Jacopo Sansovino. The whole show was conceptualised as a homage to the town of Venice and its cultural panorama. This year Valentino sponsored the 49th International Theatre Festival – Biennale Teatro 2021 – in order to enhance its "cultural footprint". By associating itself with such an event, the brand is responding to the demand for cultural syncretism which guides design and communication in the universe of luxury. For this magisterial show, Pierpaolo Piccioli collaborated with 17 contemporary artists to create pieces for the collection – works of art and silhouettes inspired by them – fusing into an elegant ensemble. The collection consists therefore of 20 "dress-works" including ones by Malte Zenses, Alessandro Teoldi and Kerstin Br tsch, Joel S. Allen and Anastasia Bay. All drew inspiration from the extraordinary wealth of talent and skill which nurture haute couture in terms of artisanship, textiles, dressmaking and colours. "Fashion is not an art, because art is self-sufficient, whilst fashion always has an objective, a function, a use. Recognising these differences is the first step in establishing a practice of listening to one another, out of curiosity, enthusiasm and respect. This practice of listening takes time, like haute couture and, ultimately, like art. In effect, the process through which this project came to maturity was slow, a rhythm which is no doubt unusual in our world but appropriate and intimate for the world that I would like," the designer asserts.
The results? Grandiose ball gowns, majestic cashmere capes, puffball minidresses complemented by XXL hats with ostrich feathers, imagined by designer Philip Treacy: so many explosive looks, like the great red and white coat worn by Rianne Van Rompaey, which closed the show, on which a brushstroke painting by British Artist James "Jamie" Nares was printed on cady silk. It was quite the feat, requiring 107 metres of fabric and 700 hours of work. A free-flowing interview with a designer who doesn't go looking for euphoria – euphoria comes to him.
Instinctively, what does the feeling of euphoria evoke for you?
Something that is a little bit out of control maybe. I like to think that sometimes we can be overwhelmed by a feeling. The etymology of the word is quite interesting though… in Ancient Greek, euphoria means something that is 'easy to take' but also 'healthy and fertile.'
From a personal perspective, what would you say makes you euphoric today? What instigates your joy?
Maybe it is when I know that I have nailed my vision, when I see something in my mind and then I am able to turn it into reality. But I also have to admit that what really instigates my joy is the possibility for such a joy to be shared. I feel t hat it all makes sense when it creates a connection, a bond, with other human beings. Otherwise it's just a barren feeling.
Euphoria: is this a sensation you are trying to feel in your work or even in your personal life? Moreover, is this even something you are looking for?
No, I don't look for emotions, I am moved by…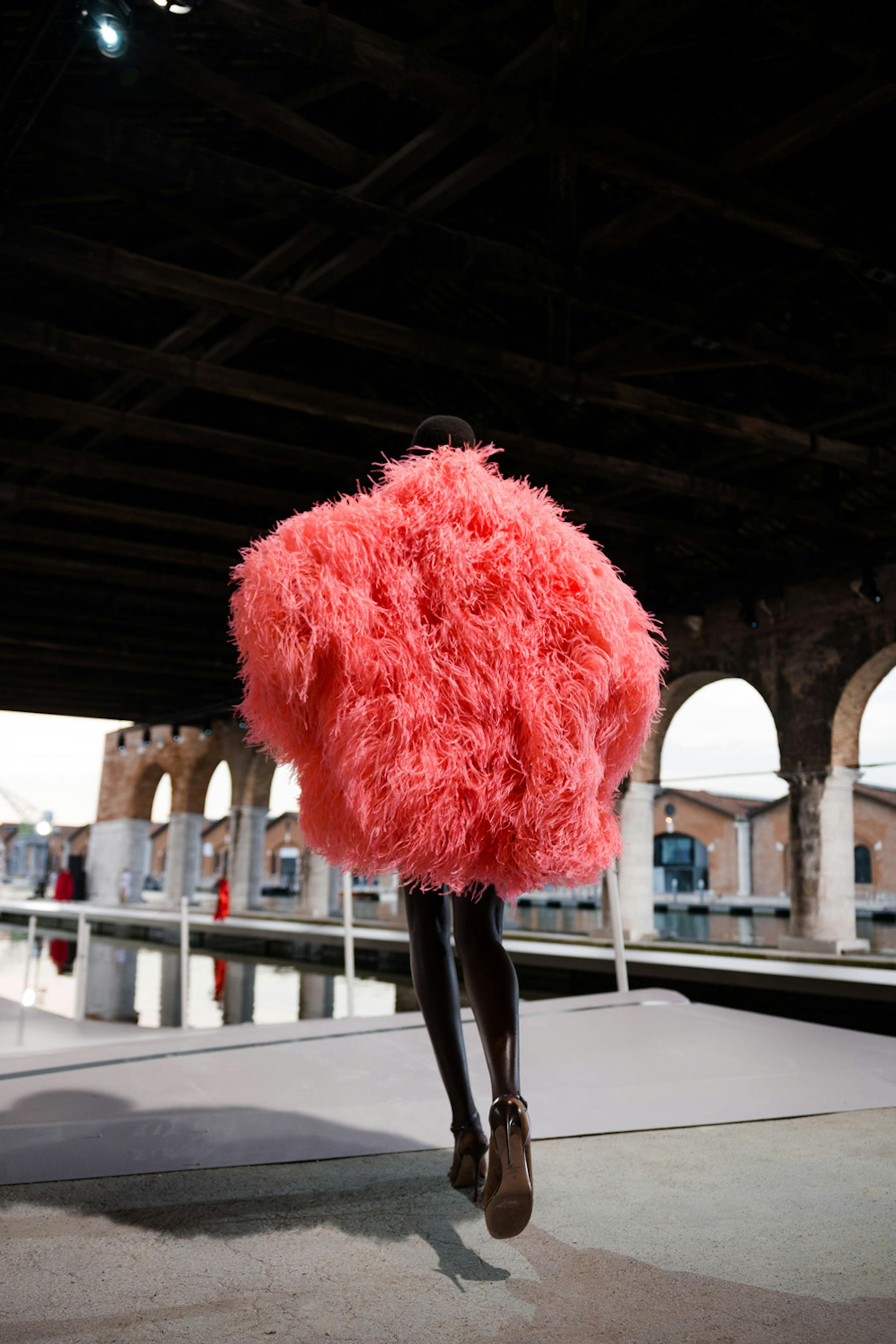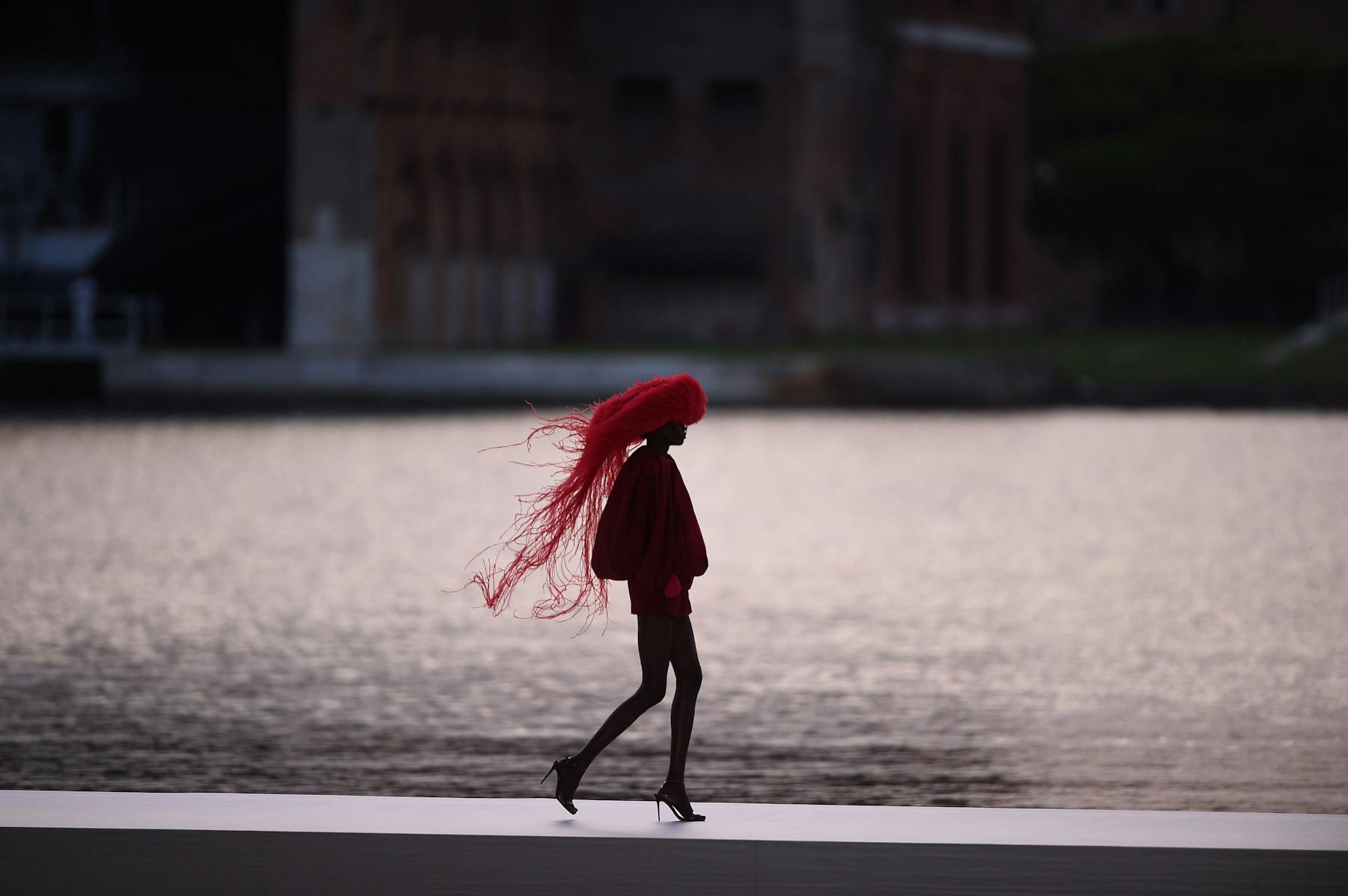 IN ANCIENT GREEK, EUPHORIA MEANS SOMETHING THAT IS 'EASY TO TAKE' BUT ALSO 'HEALTHY AND FERTILE'.
Do you feel euphoria in your creative process, and if so, when?
When all pieces come together, and I know in an instant that what I sew in my mind can now also be seen by others.
As a Roman, does the beauty of the city and the richness of its culture have any impact on your work and your perception of fashion?
Of course it does, but it's more of an unconscious education in beauty. In this city you are surrounded by hundreds of layers of art history, by different cultures that, even if you don't know it, you are ineluctably influenced and conditioned by.
Haute couture is the breeding ground for euphoria – explosions of colour, textures, extraordinary embellishments, dreamy craftsmanship, etc. To what extent does haute couture play the role of an experimental laboratory for you?
I don't know if experiment is the right word for it, but for sure there is something liberating about couture. It's a weird environment where you can do, in a way, whatever you want, but at the same time, you have to stick to very traditional processes. It may sound contradictory… and maybe it's also its charm.
Regarding your collection, Valentino des Ateliers, what was your selection process for the contemporary artists participating in the collection ?
I just picked up artists whose works elicited something in my senses. I was guided by instinct and actually I believe that this is what art should do – it has to resonate with your true self.
What was your work ethic with them? Did you give them a "carte blanche" to demonstrate their talents or were there any specifications ?
First, I wanted to know them and I wanted them to know us. It was a real challenge from day one. We talked a lot, we shared intentions, emotions, doubts. I told them what I had in mind and they told me what they had in mind, and while the conversations grew, the ideas did as well. It was a mutual, constant and inspiring exchange. The whole project was a carte blanche. Every artist worked on one or more look of the show, some of them already knew each other, some got to meet for the first time on the day of the show.
Regarding your creative process, how does it begin ? I begin with the end. Always.
Colours are part of the message you want to deliver. How did you envision your colour palette for this collection? Are there any hidden symbols or significations in your colour choices?
No, nothing hidden, or particular choices. It's just my personal taste. Of course my aesthetic is built on and by my personal history and culture and experience so maybe if there's something hidden underneath the color palette, it's simply myself!
Which colour evokes euphoria for you ?
Rosso Valentino, of course. I don't think I need to explain that.
We often present fashion designers like "sponges" who connect very different artistic expressions – films, paintings, literature, design, music, etc. What are your thoughts on this?
This is a good definition, but I would like to add that on top of being a sponge (which is pretty much true) as a designer you should also deliver your identity and values through your job. Fashion is a language and you have to keep in mind that you are always saying something.
Are these dystopian times we are currently living in compatible with euphoria in your opinion or is this an outdated notion?
Well, euphoria is a dystopic feeling by definition... so of course it is compatible!
In fashion, you work for the day after tomorrow. How do you manage to project yourself in such an uncertain world?
I don't think it is so uncertain. Sometimes I find it predictable. Uncertainty is a good starting point for every creative process so I welcome it!
MY CREATIVE PROCESS BEGINS WITH THE END. ALWAYS.