Inspired by an adrenaline-driven euphoria, the why not moment that resulted in Byredo's makeup line came to its founder Ben Gorham whilst hanging from a jagged edge with British makeup artist Isamaya Ffrench.
BASKETBALL TAUGHT ME ABOUT DISCIPLINE AND DROVE ME TO BE COMPETITIVE.
"We have been hiking in remote parts of the world and discussed makeup collections dangling off rocks. She is so much more than a makeup artist and she immediately understood my vision of subjective beauty, so it was natural that she would be the one to help me realise this as a collection of products and tools for self-expression," Gorham says, illustrating this sense of adventure and bond with nature he shares with friends like Ffrench, famous for her work with stars like Bj rk and Rihanna, and models Kendall and Kylie Jenner.
With its sleek packaging and scintillating, rich, escapist color palettes with names like "Prismic", Gorham's latest venture, launched in 2020, has tapped into a surge in the cosmetics industry driven by a demand for innovative packaging and marketing strategies. According to a recent report from Allied Market Research, the global cosmetics industry generated $380.2 billion in 2019, and is expected to reach $463.5 billion by 2027.
Reticent to talk business, the basketballer-turned-perfumer/cosmetics pioneer describes the Swedish brand's trajectory as one buoyed by resonance and community. In fact, he uses those two words a lot. Much to the surprise of more established brands and industry watchers, he not only created a global iconoclast brand from out of left field, but also a zeitgeist around it with a friends circle that includes Louis Vuitton's Virgil Abloh, Burberry's Riccardo Tisci and Kanye West.
From candles to accessories, partnerships with cultural phenomena have also helped boost the brand. Last year, he teamed up with Travis Scott on a limited edition fragrance and scented candle called Travx Space Rage, a play on words conveying this idea of space travel and the infinite through scent.
A former professional basketball player, Gorham arrived at the olfactory world literally from out of nowhere. After launching in 2006, Byredo became a worldwide sensation - his simple, genderless aesthetic and scents that capture emotions and experiences in bottles quickly intoxicated fashion A-listers worldwide like Karl Lagerfeld. How, you ask, is the golden question, which even Gorham doesn't directly articulate.
"I'm not sure there are any right celebrities in the way that there are no right people for Byredo. We are a brand that welcomes anyone that wants to be part of our universe, and if it resonates with someone famous to me that is just as meaningful as it resonating with anyone that comes into our stores and walks away with their first candle or fragrance. It's always about how our community connects with us," he explains, adding that being an outsider comes with the benefit of not having to accept the "status quo."
Industry experts, however, say Gorham's winning marketing strategy is the key to his business. His pursuit of new ideals of beauty is one of the reasons why Byredo is truly for everyone.
"Our makeup line launched in 2020 and was the culmination of more than two years of research. I always wanted to have a visual manifestation of Byredo. I looked at the market and saw a focus on marketing campaigns and not products. Everyone was telling people how they should look, what they decided was 'beautiful'. The message out there was that if there were something wrong with you, if you didn't look like their idea of beauty, you should buy their products to fix it"
Gorham looked inside his inner-circle and tapped Swedish-Albanian UFC fighter Ilir Latifi and professional dancer Rebecka Eklund as the faces of the Collector's Edition re-launch of the powerful yet delicate and tactile scent, Blanche.
'"Ilir, being a close friend, embodied that, with his larger than life stature, but he is an extremely sensitive, nice person… It was all about playing with this duality and the idea that things aren't always what they seem."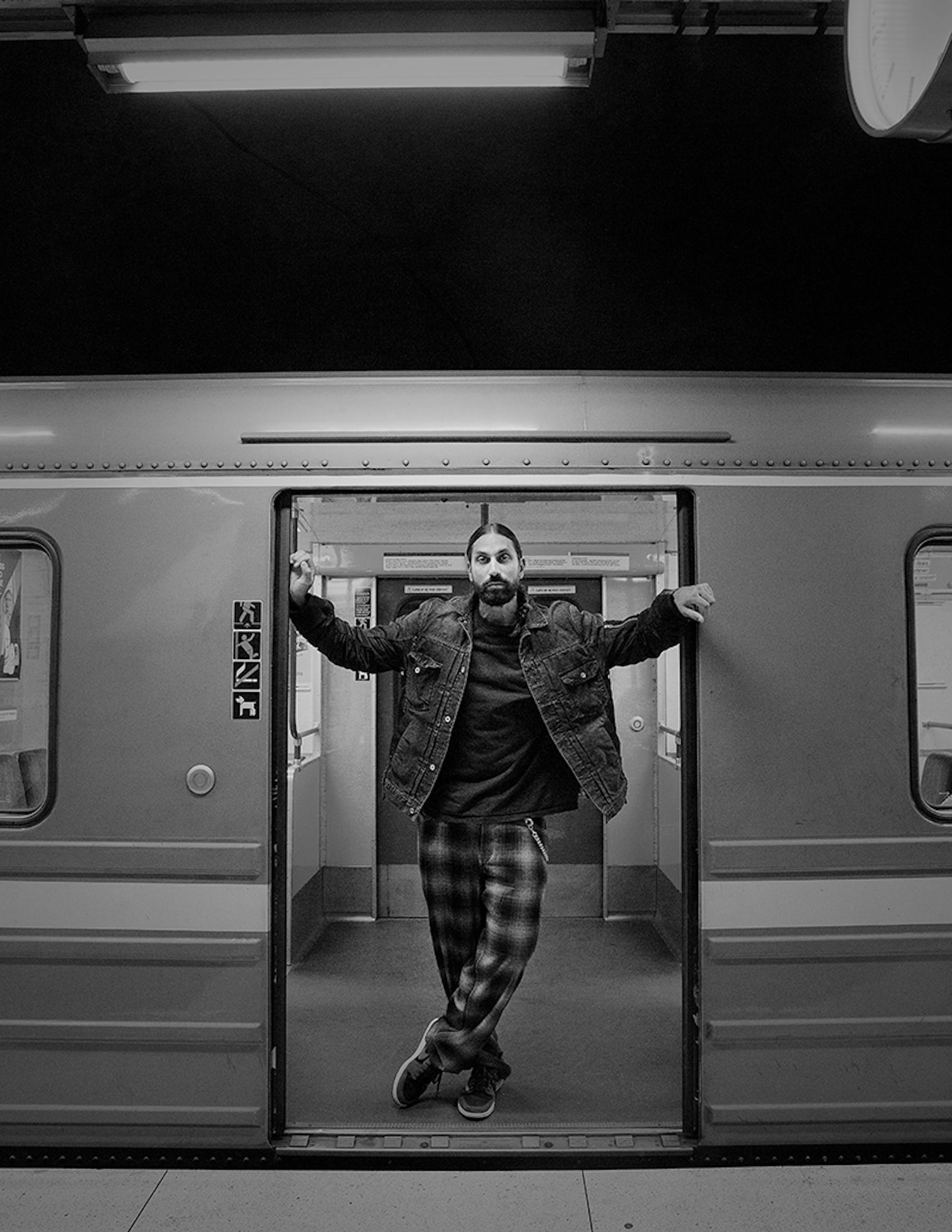 Photographer
MARZENA SKUBATZ
Prowess is an overarching undertone that tickles your nose when you open a bottle of Byredo. A former life as a Swedish basketball player has a lot to do with it. Basketball comes up a lot in conversation with Gorham, as long after the game ends for many athletes, the euphoria of the game, the team, the rush, the nostalgia… it stays with you.
"The most pivotal moment of my journey was quitting basketball in my 20s. It was everything that I knew up until that moment, what I had worked towards and moved countries for and the opportunity disappeared because of bureaucracy and paperwork. It was hard for me to swallow, but it paved the way for the journey that is Byredo that I really couldn't have imagined. Byredo wouldn't be the same brand if I had begun my career in the beauty industry instead of basketball," he reflects.
"Basketball taught me about discipline and drove me to be competitive, which are skills you need when you are an entrepreneur, but definitely when you are an outsider. Sports are still very important in my life, surfing especially. But also hiking and rock climbing and anything that brings me close to nature."
A citizen of the world, Gorham was born in Sweden to an Indian mother and a half-Scottish and half-French Canadian father. After spending a significant amount of his childhood in Toronto, he later finished high school in New York, went to Toronto's Ryerson University to study business, then switched to politics before making a leap into interior design, before finally leaving university to play basketball full time.
When his career was over, he enrolled in art school in Stockholm to study fine arts, painting and sculpture, history and photography. Byredo is like a culmination of all the stops on Gorham's life path. A meeting with a French perfumer who showed him how to actually make memories into scents changed his life forever.
"I heard about him when I was in Sweden. He is a French guy who lived in New York. He was a fragrance director at one of the perfume houses. I came to him and I had this idea, and he helped me translate it. It was really simple: I put together this creative project that was more about translating specific memories into scents… I was trying to kind of see how literal I could be with the translations. He showed me some stuff and it was very provocative, especially connected to memory. Like, I could get you to smell something and you would be like, 'Wow…Troy…ninth grade.' It could take you places—almost like music—in a very instant way."
Today, living in Stockholm with his family, he derives euphoria on a daily basis from his hobbies like rock climbing, surfing or simply watching his children grow up.
"It could be something as simple as having my daughters paint my nails, or taking a break to surf and be in the ocean waiting for the next wave. This past year has taught me that there can be a lot of joy in being still, in zooming out to the big picture and having the time and space to refocus creatively."
And while, strangely enough, he rarely wears any scents, he's captured one memory in a bottle that he says conjures a special euphoric feeling.
"Palermo will always be my go-to, even though I rarely wear fragrances. It's a scent that is at once fresh and harmonious but also complex and diverse, just like the city for which it is named. I like that dichotomy of scents that you find in nature, that are both crisp and earthy or dense."