Journalist
Rebecca Voight
In 2020, after two years on Florence's Piazza della Signoria, Gucci Osteria da Massimo Bottura was awarded its first Michelin Star. A triumph for any new restaurant, the rise of Osteria in the culinary firmament is due in no small part to the internationally-honed talent of Head Chef Karime López.
Despite technical advances in cooking, the poetic warning: 'if you can't stand the heat, stay out of the kitchen,' holds true. Helming a star restaurant today is a high stakes, mental and physical trial, not unlike a yacht race, with the possibility of ecstasy or agony looming daily during the three-hour lunch and dinner shifts.
For Chef López, it's the challenge that keeps her coming back to the kitchen. Since her early twenties, she has been on an odyssey of total foodie immersion, working for one multi-starred chef after another at groundbreaking restaurants. It's a career path that has taken her from Spain's Catalonia to the Basque country, Lima, Mexico City, Tokyo, Copenhagen and now Florence.
López designed Osteria's menu under the direction of her mentor and boss, Italy's top chef Massimo Bottura of the three star Osteria Francescana in Modena. Today, the daily delivery of the intricately prepared, tasty and stunning meals to the table in Florence has become "totally addictive," she says. This includes dishes like The Birth of Venus, a flower-strewn, ribbon-like orb of scallops, tarragon and celeriac.
Gucci Osteria is López's most high profile and tricky assignment to date, melding Bottura's arty take on contemporary haute cuisine with Gucci's pizzazz and the colorful eclecticism of its creative director Alessandro Michele.
"There's a kind of euphoria here. We feel the adrenaline every day and this is why we're cooking. You must enjoy the excitement because if it doesn't stimulate you, it's super tough."
MAKING FASHION EDIBLE IS REALLY WHAT GUCCI OSTERIA IS ALL ABOUT.
López is the first Mexican woman to earn a Michelin star. After she won the award, her mother had a hard time convincing her that she really was the first to win from Mexico because the chef was certain there had to be someone else before her.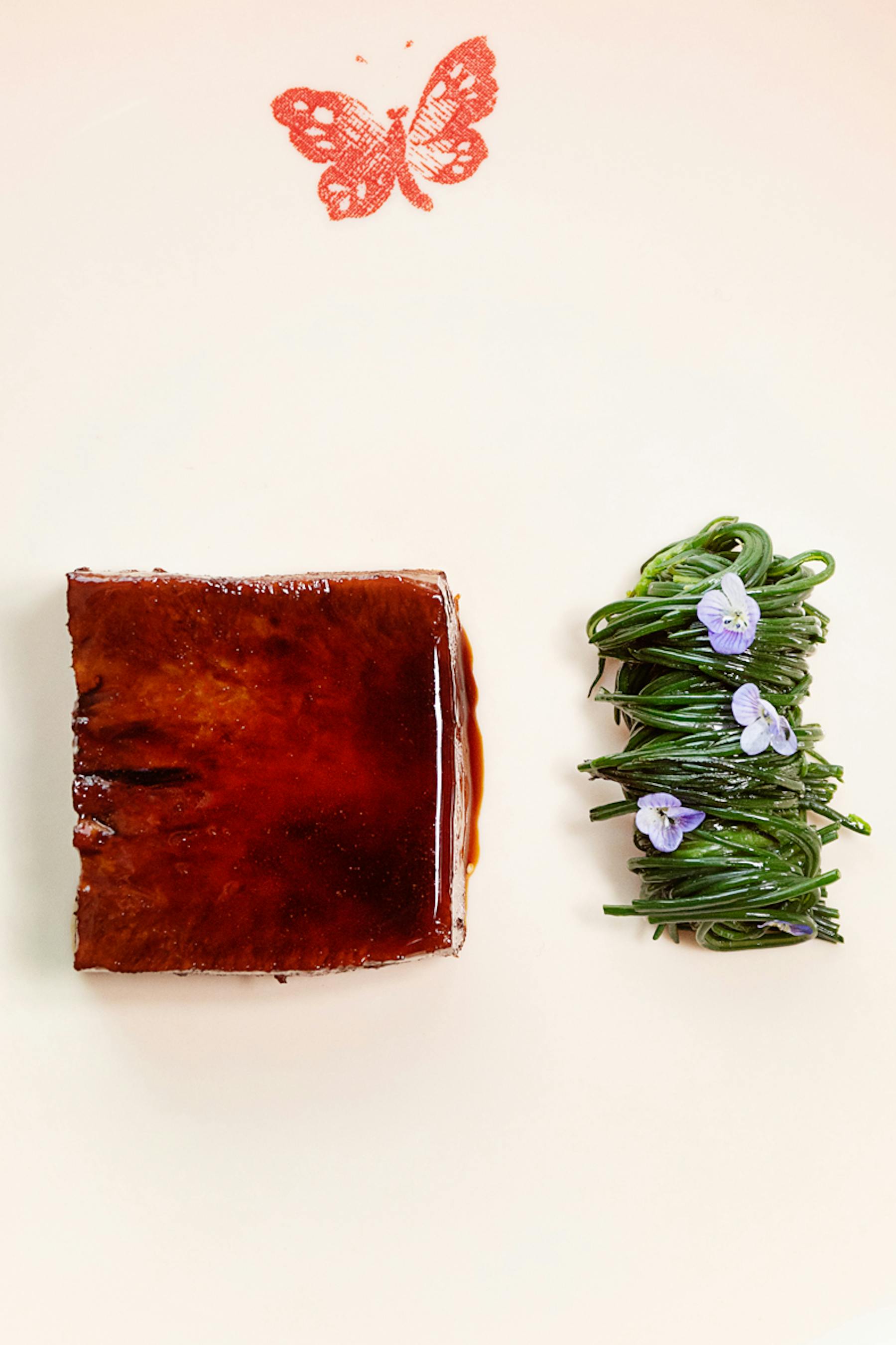 As restaurants in Florence go, Gucci Osteria is like a svelte, high-strung gypsy dancer in a herd of bulls. The city is filled to capacity with beefy eateries serving hearty Tuscan sage and olive oil country specialties with an abundance of white beans. Meanwhile at Gucci, López's light fare delicately juxtaposes diverse flavors, textures and visuals.
The emphasis here is on placing star Italian ingredients front and center on a menu with accents from all over the world. The result is sophisticated, but also relaxed. Osteria's Chianina's Kiss combines beef tongue from Italy's famous Chianina cattle with glazed pumpkin, while Sea Deepness puts mullet bottarga (grey mullet fish roe from Sardinia) in a cod and squid broth with ditalini ("little thimble") pasta, from Gerardo Di Nola in Gragnano near Naples, and lightly cooked vegetable spheres that resemble brightly colored marbles.
⏤ Also on the menu are Mexican purple corn tostadas with marinated bonito and a steamed bun with pork belly that evokes China, but is named Taka, after Takahiko Kondo, López's husband, the Japanese sous-chef at Osteria Francescana.
The 40-seat restaurant is on the ground floor of Gucci Garden, a three-level shop, bookstore and brand museum housed in the XIV century Palazzo della Mercanzia, a stone edifice decorated in Gucci's zany mix of old and new that could pass for the ancestral home of a modern day, Mad King of Bavaria.
Since opening in 2018, Gucci Garden has become a major attraction in Florence, the birthplace of the Renaissance, teeming with visitors year round. They're eager to experience art (Michelangelo's David, Botticelli's Birth of Venus), architecture (the Duomo Cathedral of Santa Maria del Fiore, the Ponte Vecchio), history, Tuscan food and now style.
Making fashion edible is really what Gucci Osteria is all about. And López seems to have understood how to do that.
On one wall at the entrance of Gucci Garden, not far from the restaurant, there's a quote in pink neon from William Blake, England's mystical romantic age poet, painter and the inventor of 'illuminated printing':
"I went to the garden of love and saw what I never had seen."
Experiencing something new, something never seen before, is euphoric. The newness, or maybe it's more like the wowness and nowness, of Osteria is its blend of the latest street and haute cuisine combining a zingy bite here, a striking image on the plate there, to transport diners from one sensation to the next so that by the end of the meal, they have seen it all, tasted it all, and can leave the table without the urge for an après feast snooze.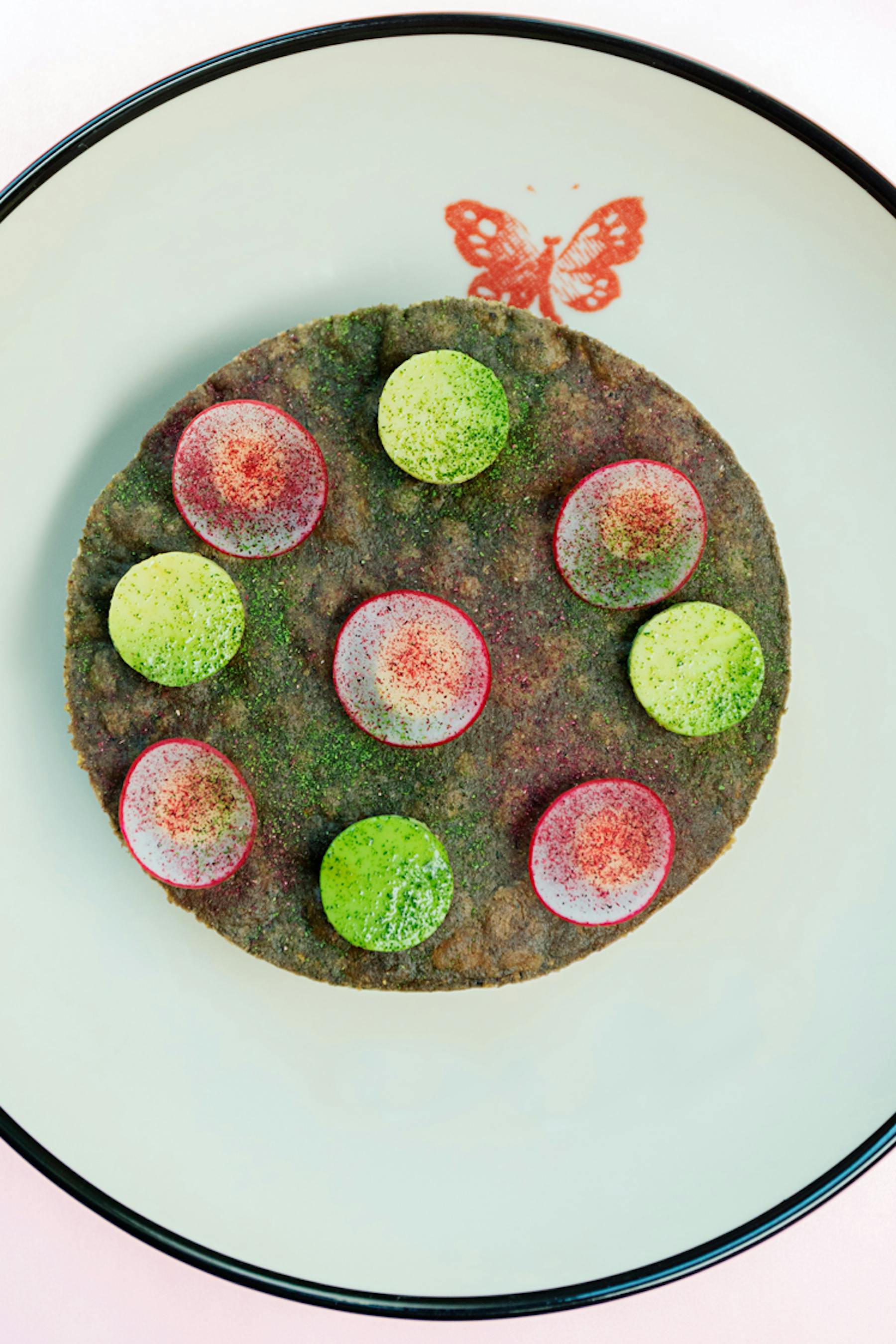 There's even a burger on the menu, The Emilia, named for the Emilia-Romagna region in northern Italy, where Chef Bottura and Gucci CEO Marco Bizzarri grew up together and became lifelong friends. Far from a traditional burger, this one speaks Italian, Emilia-Romagna style, made with cotechino, a sausage typical of Modena, Parmigiano Reggiano, salsa verde and balsamic vinegar.
The dish López is most proud of is Osteria's Purple Corn Tostada. "Lots of dishes remind me of different situations, but I could never have imagined a Mexican specialty would conquer the Italian heart," she explains. "At first, I was a little bit like: 'okay, I will try it, and if it doesn't work I will change it.' But people were like: 'Oh what is this? It's good.' They came back for more and I was surprised and proud. The tostada represents me, my roots and my country. Of course there's many dishes that will stay in my heart forever because each one represents an achievement. So many aspects must be managed: the suppliers, the creative process and the plating. Each one is like a child."
López and her team from South Korea, Spain, Venezuela and Italy work with seasonal ingredients and depending on their availability new dishes arrive and favorites reappear on the menu every few months.
"Working with Gucci is inspiring every day, when you see all the creativity and how they amass all their different ideas. It has been the perfect place for me to develop. It's what I was looking for all these years." In fact, López was into painting, sculpture and ceramics when she arrived in Paris, aged 19, from Mexico City to attend the Beaux Arts.
The discovery of the city's salons de thé and French pastry was an epiphany for her. "I thought: 'oh my God this is amazing. These are like little sculptures, but you can eat them.'" The connexion between food and art transformed her. She left Paris for cooking school in Spain.
"The things I like most in life are art and eating," says López. Add an inexhaustible desire to learn and work hard and you begin to discover what this soft-spoken chef with the bright smile is all about.
López began cooking in 2005 with famed Catalan chef Santi Santamaria at Can Fabes, the three star restaurant in his family farmhouse in Sant Celoni near Barcelona that put Spain on the contemporary cuisine map in the 1990s. Santamaria was a traditionalist who believed more in raw ingredients than scientific techniques like molecular gastronomy popularized by fellow Catalan Ferran Adrià at El Bulli. "We cook so that food tastes better and does you good," he said.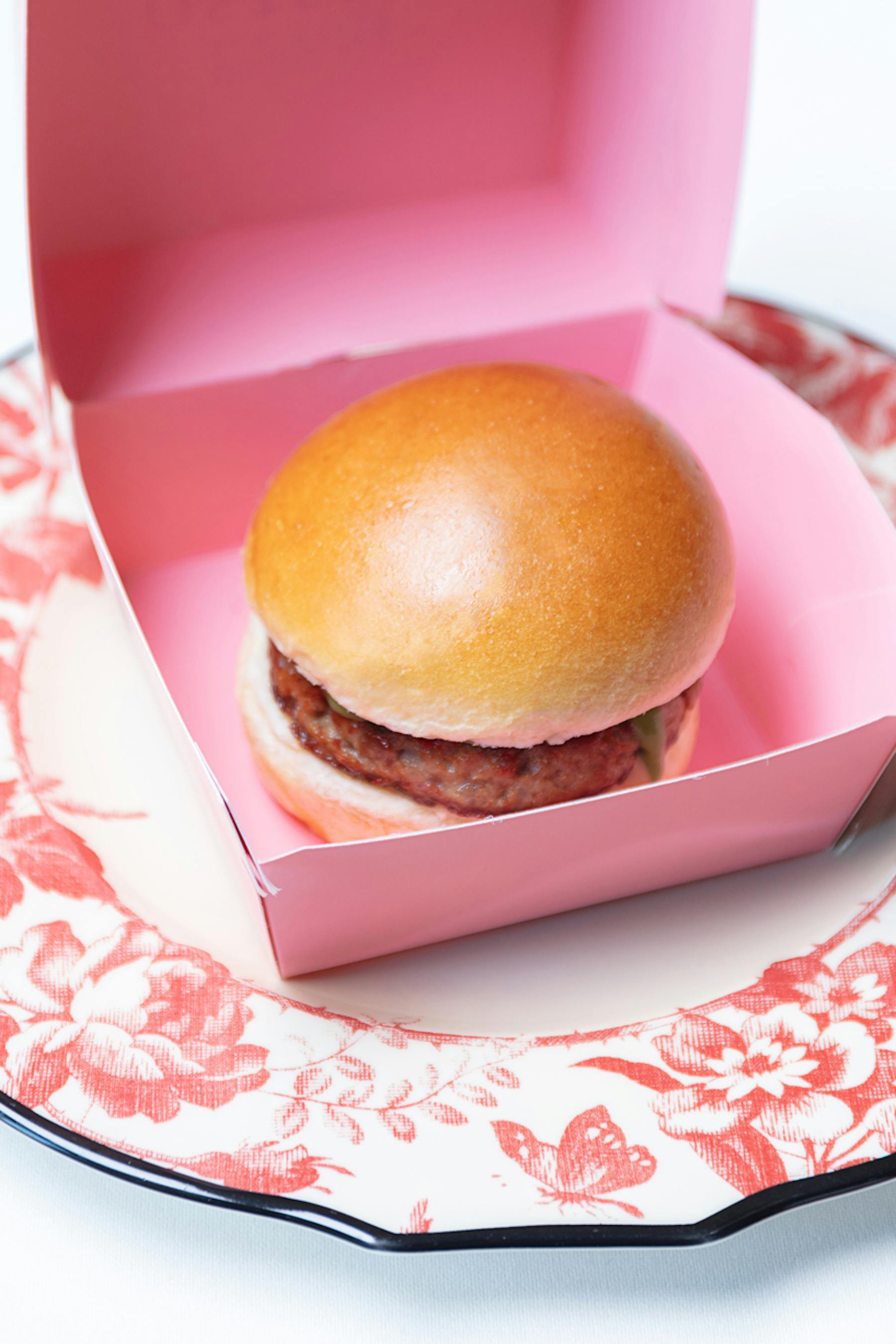 López credits Santamaria with her foundation, but the experience in Sant Celoni didn't stop her from moving around. After two years at Can Fabes she began jumping: Mugaritz in Spain's Basque country; Pujol in Mexico City; a stint with molecular maverick René Redzepi at Noma in Copenhagen; Tokyo with Seiji Yamamoto at Nihonryori RyuGin, then five years in Peru with Virgilio Martinez of Lima's Central where she worked on the start of Mater Iniciativa, the research center that sends a team around Peru seeking undiscovered native ingredients and rural cooking methods to incorporate in Martinez's restaurants.
"It was like oil and water," says López. "I went from super traditional to super abstract. It was tough to understand at times, but I decided that I would learn from each technique, each philosophy."
While back in Mexico, she applied to work with Seiji Yamamoto at RyuGin in Tokyo. "They didn't respond, so I just forgot about it, but when they contacted me a year later, I decided to drop everything and go there. That experience changed my life. It was the first kitchen I had been in since Can Fabes with a group that was all passionate about the same thing. We were all focused on one simple mission: to enjoy food and advance the culinary art. I discovered I didn't know anything. I saw different products and discovered new tastes. The more you know and the more you travel, the more you discover that you don't know anything. One life is not long enough to see everything, taste all the food and master all the techniques I want to learn. It's endless."
When López met Takahiko 'Taka' Kondo, from Osteria Francescana at a cooking exhibition, she was beginning to think she might remain a maiden aunt for the rest of her life. They married and she found herself in Modena, Italy in 2016.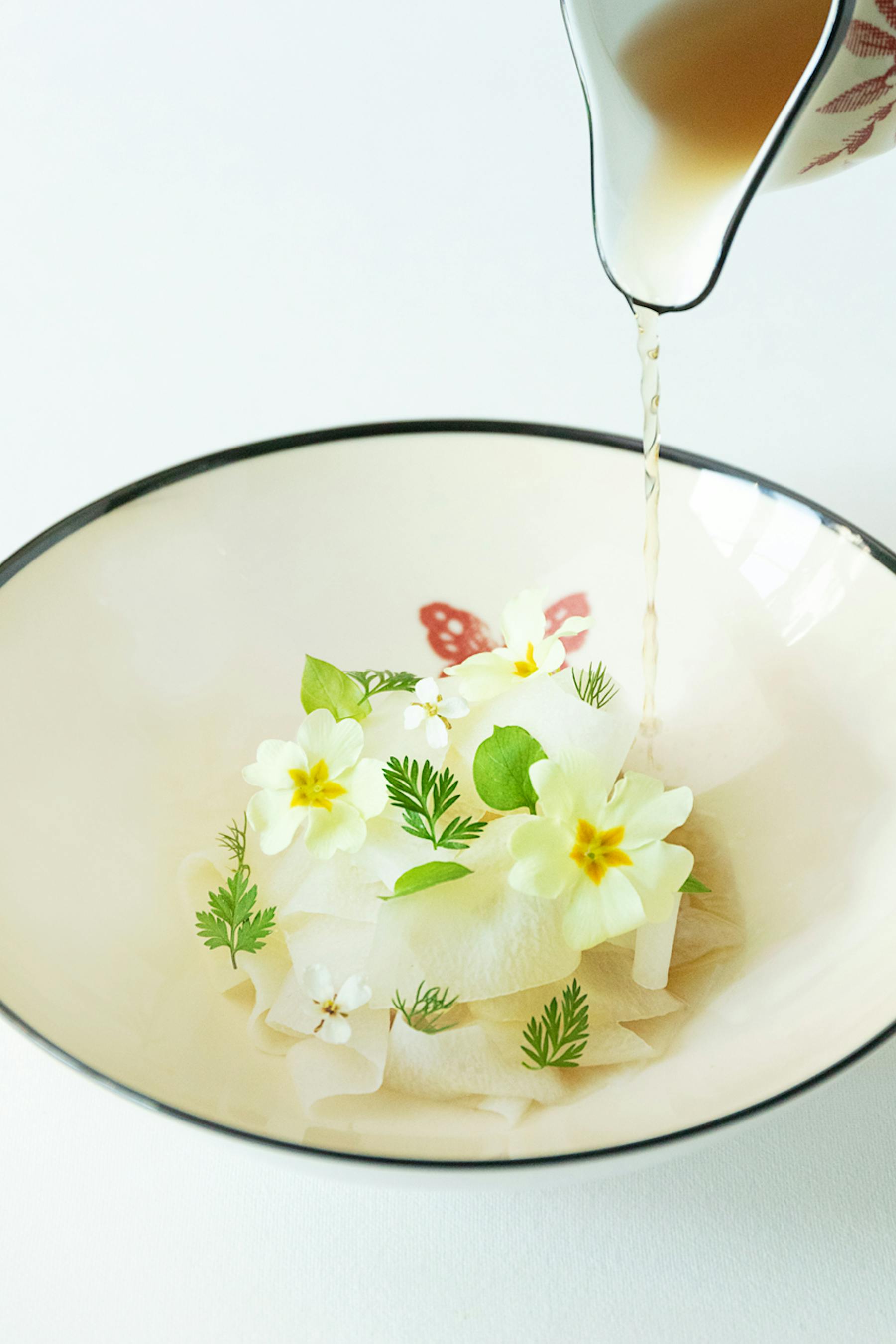 She didn't want to work at Osteria Francescana where "he" was, so Chef Bottura and his wife Lara Gilmore asked her to write and test cook the chef's latest book Bread is Gold which includes 150 recipes from top chefs including Redzepi, Martinez and Adrià for Bottura's Refettorio Ambrosiano, a new style soup kitchen he launched at the Milan Expo in 2015 to feed the needy with unwanted ingredients from the fair through he and his wife's organization Food For Soul. Fifteen tons of food were transformed into gourmet meals over five months there before Bottura took Refettorio on the road to London, Rio, Bologna, Modena, Paris and Harlem. Once she had finished the book, "and I knew I wasn't ready to spend my life behind a computer," López was all set to jump into a new kitchen challenge, but the well-informed Bottura wasn't ready to let her go. With Gucci Osteria the next project in his culinary pipeline, he knew just the chef he wanted to run it. Now that Osteria Beverly Hills is open and as of writing, Tokyo, on the top floor of Gucci Namiki in Ginza, is set to start, Bottura and López look like a team meant to last.
Asked what advice she would give young women who want to spend their lives working creatively in food today, López is succinct: "stay focused on what you want and be persistent. Food can give you a lot of personal satisfaction. If you really want this, you can make it."