So we'd arranged to meet, that Monday, at the Rostand, a big and slightly sad café, opposite the Luxembourg gardens, a stone's throw from where she lives.
There were the usual suspects from Exhibition – Edwin, Boris and me (like in the old Marie Laforêt song)Valeria arrived. Effortlessly beautiful. Eyes so blue you could swim in them, spil- ling over with energy and melancholy.She was late, no matter. She apologised. Just the right amount. With that elegance that betrays her aristocratic – not bourgeois – Italian heritage, that of Tuscany and Lake Como.I interrupted her. I wasn't in the best of moods, and I wanted to savour every morsel of our meeting. So I asked if we could re-schedule. Her eyes (see above) smiled. "That works for me. I'll be in a better mood too, for example, next Saturday." That was fine for us. Valeria smiled again. "There's a word in German that means that awkward fee- ling that it takes you so many words to explain in French : taking pleasure in the misfortune of others, something one is never proud of. You, you don't feel well. I feel better." She laughs but doesn't remember the word. The meeting is set for Saturday. This time at the Ritz.
The weekend, and so, to the Ritz. The Hemingway Bar is noisy and full. It is impossible to have anything served outside the bar. We don't care. Nor does Valeria. We sit down on a sofa between two galleries and a flight of stairs.
Still she can't remember the word in German, still she's laughing about it. The three of us exchange looks, we're all thinking the same thing. Valeria is tragically splendid when she weeps (on film) but in life, we only want to see her smile, laugh or dream. Again and again that deep blue gaze looked beyond us and beyond the Place Vendôme. I say :" I re-read an interview with you, in Libération, by Philippe Vecchi in 1995. He was struck by the number of times the word "fear" came out of your mouth." Valeria : "It was the first time there was a feature about me. I remember, I'd invited him to a café I knew well, near the Boulevard de La Tour Maubourg, just round the corner from my old Italian lycée. Yes...fear. I am still afraid today. But it's a more familiar sensation. I know it, I recognise it. It is sitting next to me and – if need be – I can ask it to wait in the next room for a couple of hours."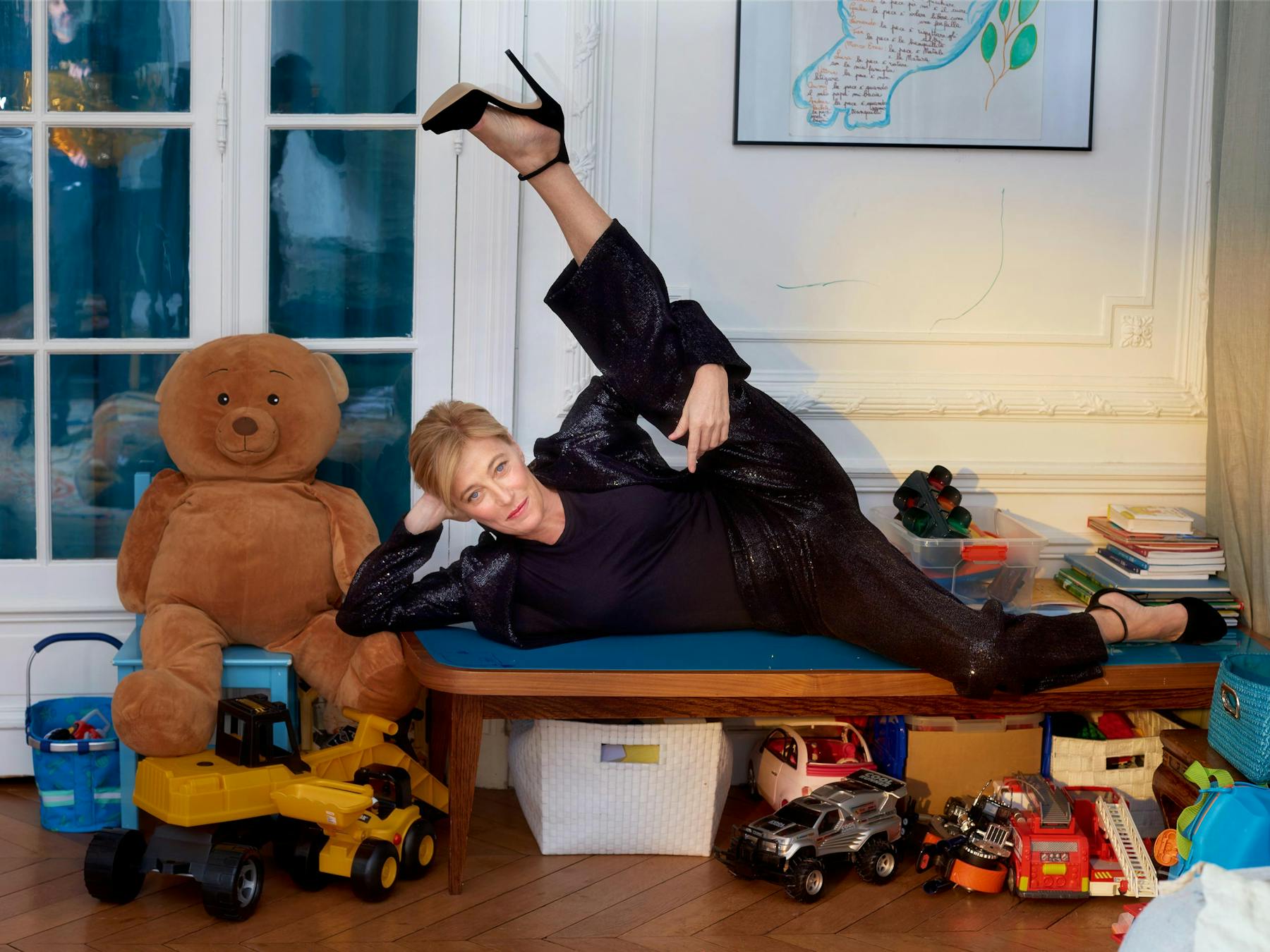 Valeria lives with this kind of anxiety but prefers serenity, and is always trying to find it, through a touchingly simple mix of words and gestures. Faith, when it presents itself ("sometimes I go into churches, study other religions, I have flashes, not often, but I'm always trying... like with serenity. Clumsily, but I'm trying. Sorrentino says something like: 'it's considerable effort for little reward'").Faith, then, and also work, wor- king "together". I love it when Valeria describes work as "a little labour."
She made a brilliant start as a literature student and then stopped, for fear of solitude. She turned to theatre, "treating it like a dating service." "My struggle has been against solitude. A film, a play – it's form of communion, we're together." It's like writing for her, which she almost always does with her friends Noémie Lvovsky and Agnès de Sacy. Valeria uses another simple word, in a stronger sense than it is often used: good sense. "In anguish, in confusion, in painful relationships, the key is to think about things in a simple way, with good sense. To arrive at the essential."
One day, she told the magazine 'Psychologies' : "I don't want to be happy all the time." Now, she clarifies : "Happiness is violent, it's more significant than a film for example, because at best, it is ephemeral. Happiness is dangerous; within it you lose serenity. In a Claire Denis film, I was playing a contented baker. I played it as worried as any- thing, like someone who knows that happiness can't last."
Valeria smiles when I broach the subject of her sensuality – shoulder, breasts, hips, her gaze from which it is so hard to turn away -- and tell her that there is no one, girl or boy, who doesn't dream of being her brother, her sister, her cousin, her friend, of being close to her... "But where are all these people!" She laughs. "Show your- selves! I can't see them." Our view on things : too bad for them!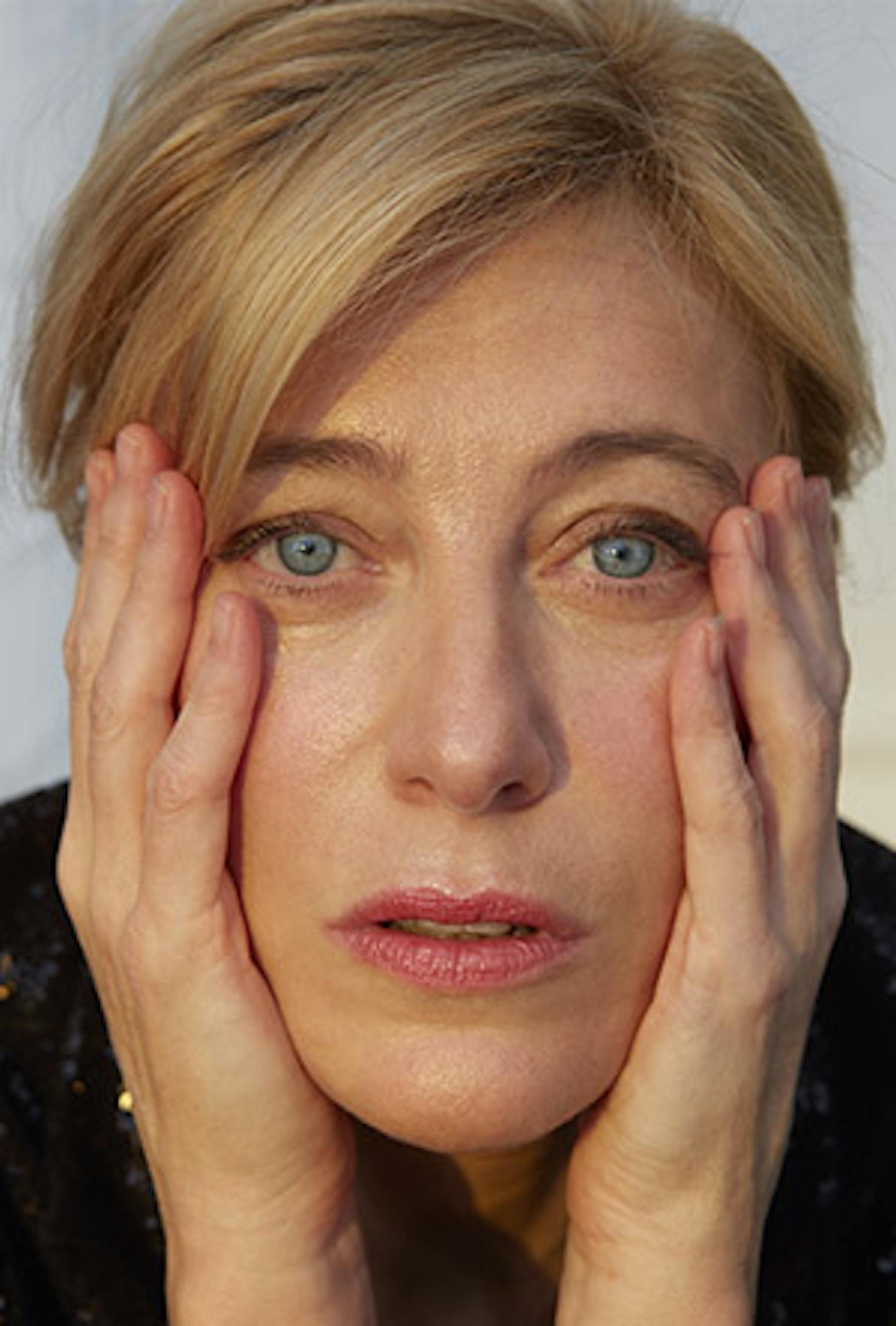 Valeria is editing her next film. In it is not only her mother, Marina, but also her daughter and her aunt, who is 94! "She wanted to be an actress at the age of 20, but she wasn't allowed. She had the right idea though. She's brilliant at improv, it's an innate talent, we did ten takes, she was perfect in each one." She is happy to have made this memory for her aunt.
Valeria has an almost painful relationship with memory, with what will no longer be, with nostalgia. "In life, I am nostalgic for what happened an hour ago. Even if it wasn't really an extraordinary moment, just the fact that it was an hour ago... In fact, when I was little, I had a very rich interior life. I used to fall asleep thinking about Adam and Eve (I was raised Catholic after all). My children, now, think about Elsa from Frozen or Kirikou. That's our Gang of Four."
As a child she had to flee Italy. It was the time when the children of the wealthy risked being kidnapped, the time of the Mafia and the Red Brigade. "As a little girl -- and this is a period to which my first film refers -- I dreamed of being abducted by the head of the Red Brigade, who didn't like me because I was rich. And then he discovered that you can be rich and good, morally speaking. He met my parents. My parents in turn understood him better. We had a party. A little girl's fantasy..."
This was the origin of her support for Marina Petrella, former member of the Red Brigade, finally pardoned, after a deal was made between Paris and Rome.
A word on the Weinstein scandal. "A lot of good has come out of it, obviously." She is thinking first and foremost about the hundreds and thousands of women who go to work sick with fear and who are finally, she hopes, going to be protected and defended. But when it comes to " deleting " Kevin Spacey (summarily) from the nearly finished Ridley Scott film, she can't agree.
She half-smiles : "if everyone starts donating their fees and backing out of Woody Allen films, I'm ready. I've been waiting for his call for 20 years. And for me what's important is what his partner thinks. With every- thing she says. It's her life and she doesn't seem to have been that unhappy these past twenty years, whereas eve- ryone else has been out for revenge."
It's time to go. But we'll see each other again? "Yes", Valeria says to Boris, Edwin and Pierre, as affectionate and delighted as overgrown children. Say, Valeria, taking pleasure in another's misfortune in German, isn't that Schadenfreude? "Yes, maybe, but I'm not sure I want to remember. It's not a very honou- rable sentiment." And she laughs. Smiles. And her gaze wonders far beyond Place Vendôme.